Vaccine Proof or Negative Test Req'd
Queerfest ft. Liv Greene, Purser, Carmen Dianne, Mercy Bell, Mary Bragg, and more!
Sun
July 24, 2022
6:00 pm
CDT
The Basement East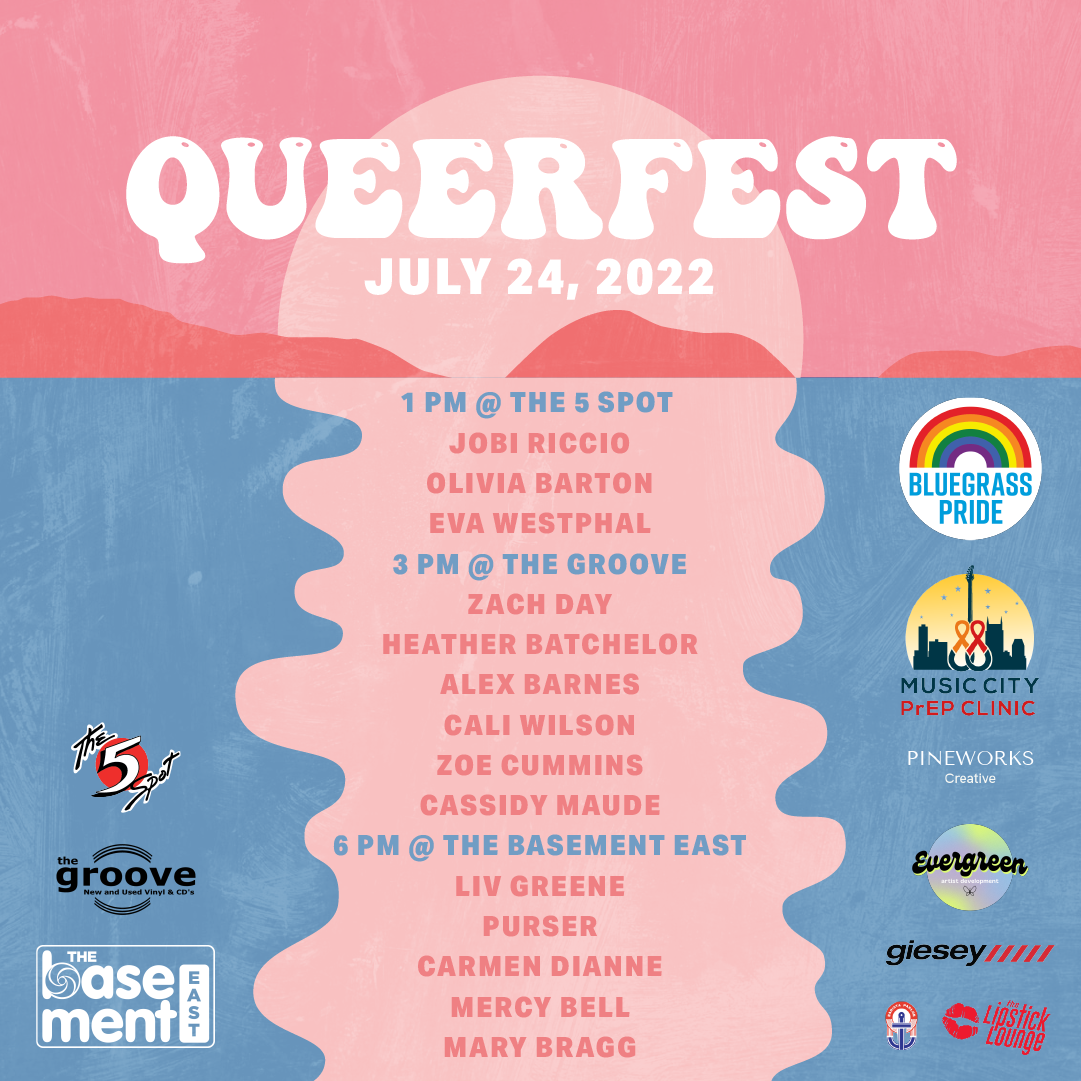 $25.00 - $50.00
Full Festival Artist List:
Jobi Riccio
Olivia Barton
Eva Westphal
Zach Day
Heather Batchelor
Alex Barnes
Cali Wilson
Zoe Cummins
Cassidy Maude
Liv Greene
Purser
Carmen Dianne
Mercy Bell
Mary Bragg

Queerfest 2022 is a one-day, multi-venue festival in East Nashville on July 24th. Queerfest cultivates queer community, provides opportunities for LGBTQ+ artists, and creates spaces where every human is welcome. This year's festival features 14 LGBTQ+ identifying acts. There will be five acts featured at The Basement East, three acts at The 5 Spot, and six artists for two in-the-round sessions at The Groove. The event runs 1-3 pm at The 5 Spot, 3-5 pm at The Groove, and 6-10 pm at The Basement East on July 24th, 2022.

Please note: There are limited full festival pass tickets. Once the 125 full festival passes are sold out, the show at The Groove is sold out, and the last handful of tickets to The 5 Spot will be first-come-first-serve paid at the door.

*** If there is light rain on July 24th, the outdoor event at The Groove will still take place. If the weather conditions become unsafe, the event at The Groove will be canceled and there will be no refunds for this portion of the event. By purchasing this ticket, you are agreeing to these conditions.
---
By purchasing tickets for this event, I confirm that at the time of the event I will have been fully vaccinated (14 days past final vaccination dose), OR will have received a negative Covid-19 test (PCR or antigen) within 48 hours prior to the event. Children under 12 years of age or fans not vaccinated will be required to present a COVID-19 test result in accordance with these guidelines. Security will check vax cards / test result documentation prior to entry into the venue. Mask wearing will be strongly encouraged.