MOLLAPALOOZA presented by Molly Parden and Juan Solorzano
Mon
December 9, 2019
8:00 pm
CST
The Basement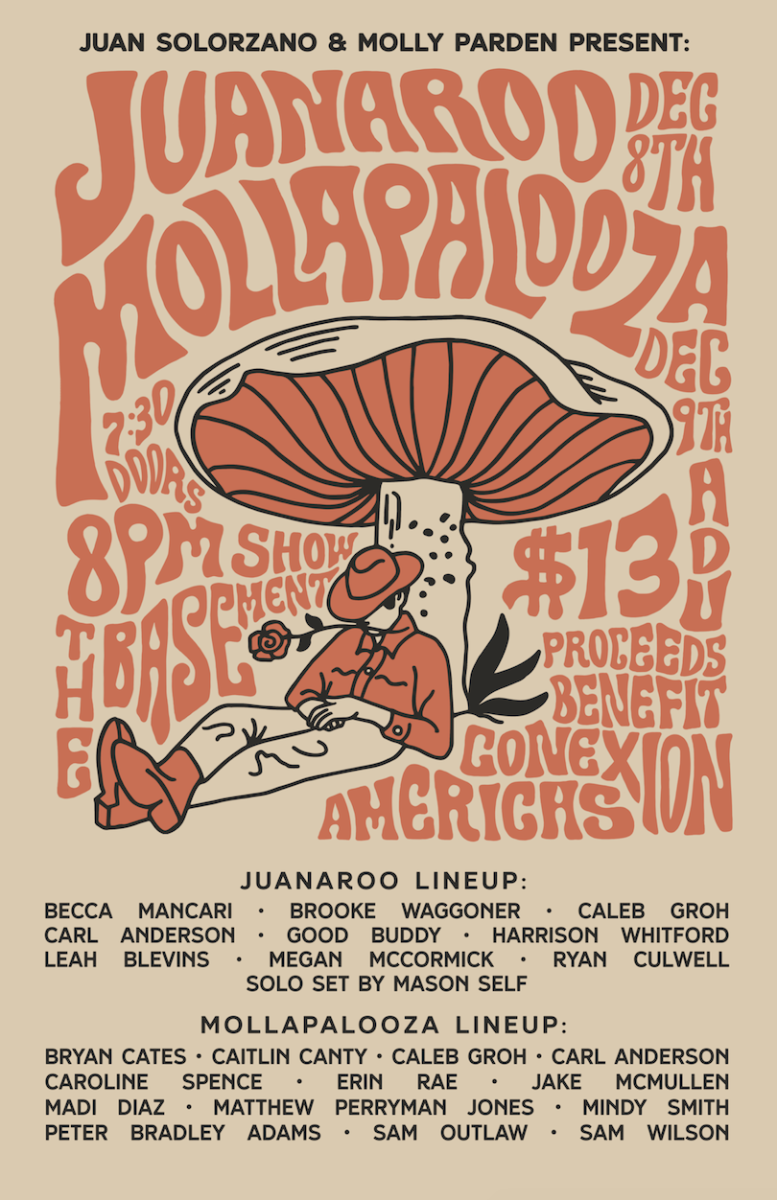 $13 ADV/ $15 DOS
If you've lived in Nashville for more than 2 years, it's likely that you've been exposed to the indie, barely-grazing-the-radar, "we're all just a bunch of friends" music scene that festers across the city. No, it's not just "in East"; it reaches as low as Brantioch, as wide as Hillwood on the west side, as far north as Madison, and even easter than East Nashville (gasp): Donelson. It's everywhere and it's awesome.
Entrenched in a beautiful facet of this scene are Juan Solorzano, born in Honduras and hailing mostly from Miami, and a Georgia peach birth-named Molly Parden from the outskirts of Atlanta. Juan moved to Nashville in 2011 after studying music in Miami. He started playing with Night Beds, then Joseph LeMay, then Molly found him via Joseph and their friendship began. Molly says Juan is the best guitar player in the world, only 2nd to Mark Knopfler. There's an untainted beauty in the way that Juan treats a song that he accompanies, always listening and never overstepping, never giving too much. Juan continues to play electric guitar for the gurgling hotbed of songwriters and bands in Nashville, and has settled nicely into a producer's chair when he's not on the road. With Zachary Dyke, he took to co-producing full-length records for Preston Lovinggood, Cale Tyson and Molly Parden. Most recently he's produced music for Courtney Marie Andrews, Becca Mancari and Daniel Daniel, and has been on the road with Houndmouth and Dan Tyminski.
Molly moved to Nashville in 2013 just for funsies and began singing harmony vocals for almost every one of her friends who made music. She says it was her networking device. She says "Oh sure, anyone can do it, just put yourself out there, tell 'em you want it." Six years later, she is a self-proclaimed "harmony whore" who can also be seen stepping into the spotlight to sing her own songs, which is "equally as enjoyable," she says.
For 2 nights only, Juan and Molly are proudly hosting the first annual JUANAROO / MOLLAPALOOZA.
On Sunday, December 8, 2019 you can get lost in the mystery of Juan's guitar magic enhancing the songs of 9 hand-selected bands, a long-time birthday wish of Juan's. This is JUANAROO. (Bonus: opening set by the one and only Mason Self)
On Monday, December 9, 2019, Molly celebrates her 31st birthday by inviting 13 of her most favorite songwriters to showcase their craft as she showcases her harmony vocals alongside each. This is MOLLAPALOOZA.
These will be nights to remember. After paying the house band, all proceeds will go toward Conexion America's, a Nashville-based non-profit helping Latino families with legal aid and educational programs. Get ready to rock, people.